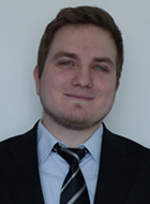 Student at the TU Darmstadt: Master of Science Computer Science
---
How did you find out about the Germany Scholarship?
One of my friends was already receiving aid through the Germany Scholarship and I'd only been told positive things about the support provided. As the next opportunity to apply to TU Darmstadt presented itself, I didn't want to pass up this chance.
Why did you decide to study computer science?
My decision to study computer science grew out of my general passion for technology as well as on positive experiences gained while teaching computer science at a high school for more than two years. Then as well as now, I am fascinated by the rapid development of the industry and the fact that computer science is connected to so many different areas of life.